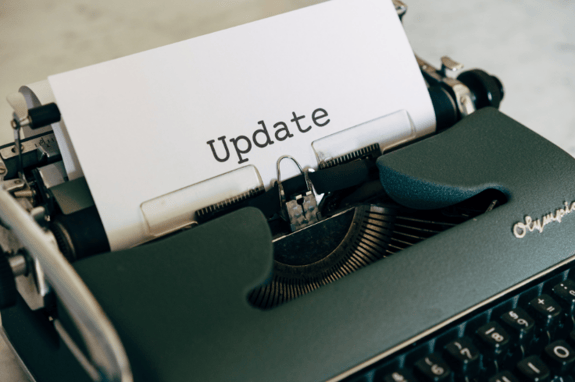 FEATURED HUBSPOT UPDATES
FEATURED BETA - ALL HUBS & TIERS
Prorate Subscription Edits
Commerce Hub customers can now collect or refund the prorated amount when they edit subscriptions in HubSpot. HubSpot will automatically calculate the prorated amount when a subscription is edited, and collect or refund it from the buyer accordingly. There are two use cases:
Proration when the next billing date is changed.
Proration when the subscription is edited.
Other Notes:
If the subscription is upgraded, a payment method on file will be automatically charged for the prorated amount.

If the subscription is downgraded, one of the past payments of the subscription will be automatically refunded for the prorated amount.

An email is sent to the contact associated to the subscription when a subscription is edited with proration.
A scheduled subscription can't be prorated as there the billing for those have not yet started. You can change the scheduled subscription without proration.
Prorated amount is calculated based on a 30 day billing cycle for monthly subscriptions & 30*12 days for annual subscriptions.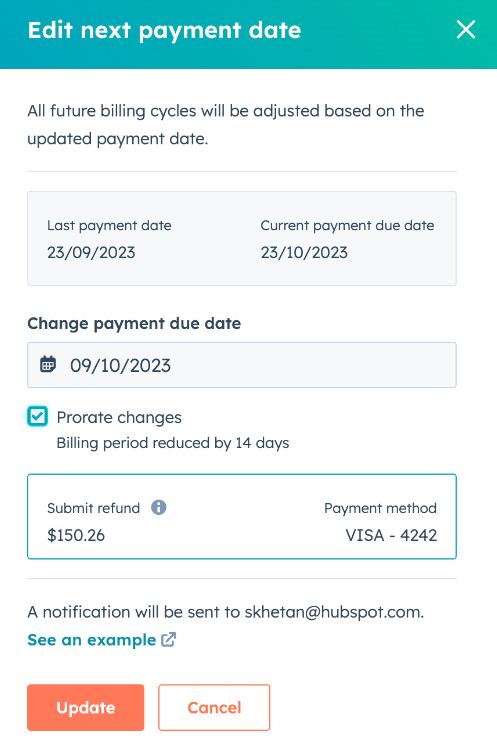 FEATURED BETA - ALL HUBS & TIERS
AI Assistant: Subject Line Generator
Content creators can now easily generate an email subject line for their campaign, complimenting the ability to generate and edit email copy within the Email Editor. Powered by email insights and best practices from HubSpot, the Subject Line Assistant will read the content of your marketing email and generate three subject lines accordingly.
Desktop:
Navigate to the Subject Line Field in the Settings tab.
Click the "Generate" trigger button next to the email subject field.
Select your favorite subject line and click "Insert".
Select "Generate more ideas" for more options.
Click "More like this" to generate three more subject lines based on your preferred subject line option.
Mobile:
Navigate to your email details and click "Edit".
Click the Content Assistant lightening icon to generate your subject lines.
Select your favorite subject line and click "Insert this idea".
Click "Generate 3 similar ideas" to generate three more subject lines based on your preferred subject line option.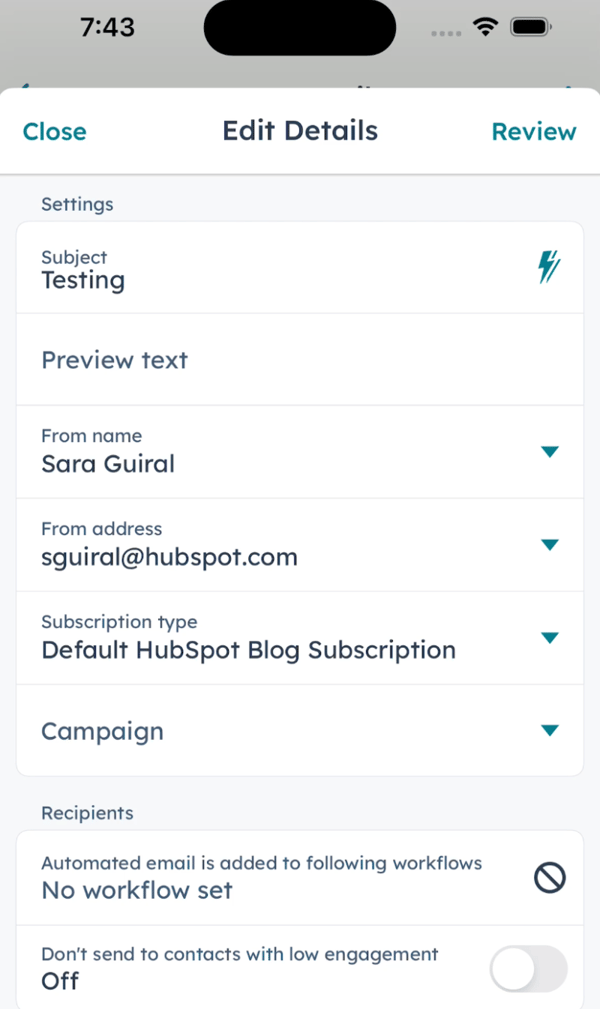 LIVE - PRODUCT UPDATE
Formula Preview for Advanced Formula Editor
With the new formula preview feature, you can now see the results of your formula in real-time as you are creating it. Previously, you would have to first create your calculated property, navigate to the record page to see the output, return to the calculated property to make changes, and repeat until you get your desired output.
Customers can now preview formulas before saving. Say goodbye to repetitive edits and formula adjustments. No more guessing or trial and error - you get instant feedback, ensuring your formulas are accurate from the start; saving you time and frustration.
After entering sample data for properties in the "value" column of the table, a sample of the output will then be shown immediately above the table. If this is the desired output, click "Create" to save the property. If this is not the desired output, you can edit the formula as needed and test the output again using the formula preview feature.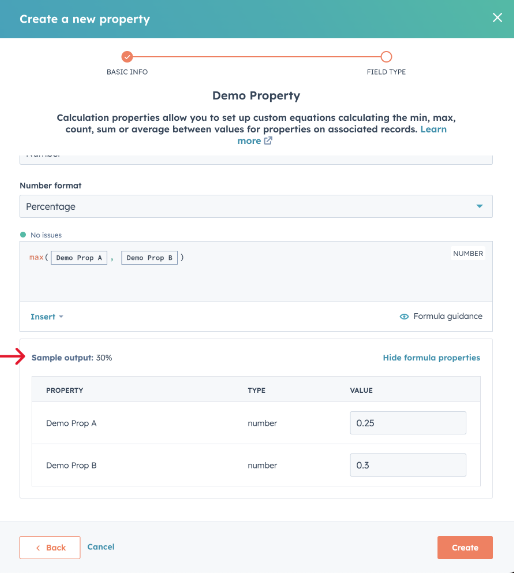 LIVE - MARKETING PRO & ENTERPRISE
SMS Events on Contact's Activity Feed
Customers can now access a comprehensive view of SMS deliverability and engagement events, such as SMS delivery confirmations, SMS clicks, and many more, directly from each contact's activity feed. This enables customers to troubleshoot any underlying issues with specific campaigns and uncover trends in engagement specific to each contact.
There are two convenient ways to access SMS activity for individual contacts:
Navigate to the respective contact's timeline via the SMS post-send recipient page.
Go through the Marketing section, specifically selecting Contacts and searching for the desired contact.
In both cases, customers should ensure they've activated the 'Marketing SMS' option under the contact activity section to display the relevant events.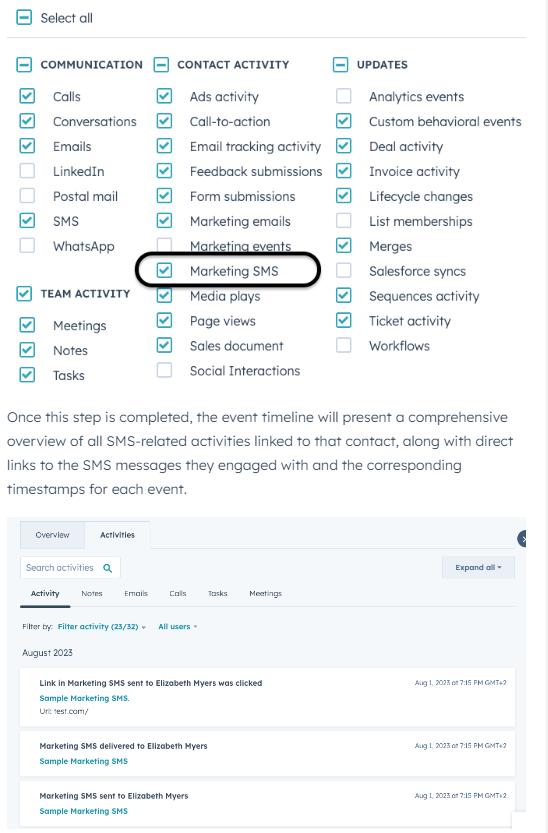 LIVE - OPERATIONS PRO & ENTERPRISE
Anomaly Monitoring on Property Updates
Introducing the ability to proactively monitor properties for anomalies in update volume across the CRM using HubSpot AI. This includes a new section of the data quality command center that monitors properties and takes action. Users will also have the ability to subscribe themselves, and other users, to notifications triggered by the anomaly issues.
As the number of updates across HubSpot grows, it can be difficult to keep tabs on where that data is being managed. In the data quality command center property insights, there is visibility into these trends. However, monitoring these trends requires routine checks. With anomaly monitoring, you can select the properties you care about most and HubSpot AI insights will help you to stay on top of changes to data in your CRM.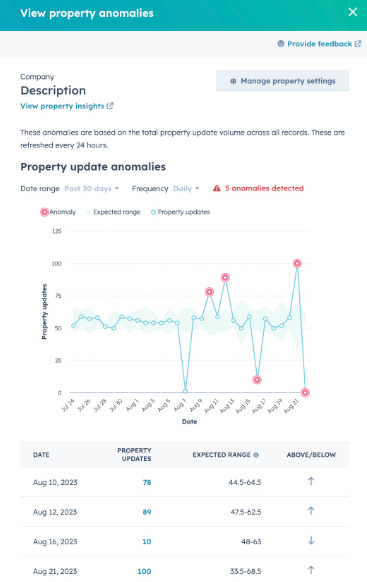 STAY IN THE LOOP
Never miss useful HubSpot updates and Betas!