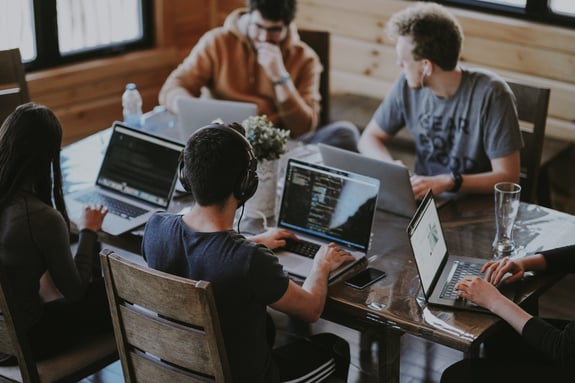 HUBSPOT CONFIGURATION
Optimize Your HubSpot CRM
We implement your unique business processes into HubSpot using our guidance and knowledge on best practices with the CRM. Our team builds scoring models, automates workflows for your Sales team, creates custom reports, and more.
Configurations depend on industry, organization size, and overall goals for HubSpot's capabilities. We work alongside your team to customize HubSpot where necessary and provide consultation on specific use cases to your unique pain points.
TALK TO AN EXPERT TODAY
FlyWheel Consultancy will gladly walk you through our HubSpot Configuration service. We just need some basic contact information from you, and a HubSpot expert will be in touch!
How The Service Works
We'll thoroughly review your dashboards, data infrastructure, automated workflows, and Sales, Marketing & Service Hubs.
We'll identify your specific pain points within your HubSpot portal and formulate strategies to resolve each pain point.
We'll communicate our findings to you in conjunction with specific recommendations for your business.
"FlyWheel Consultancy has created more than 60 complex workflows for our teams. There is nothing they can't do in HubSpot, and if they don't know how to instantly, they'll roll up their sleeves to figure out what is possible. If you have the opportunity to hire FlyWheel Consultancy, do it. You won't regret it."
"FlyWheel Consultancy did a fantastic job scrubbing our HubSpot database of old contacts and set us up on new sequences that helped the entire team be more efficient. Excellent resource if you are looking to improve how you use HubSpot to increase sales."
"FlyWheel Consultancy has been awesome! They immediately helped us identify and fill gaps where interested prospects were slipping through the cracks. The team is super flexible, reliable, and able to handle any question."
"Before we hired (FlyWheel Consultancy), our HubSpot CRM was a disaster. The incredible capability of HubSpot is best realized by hiring true experts to ensure effective and efficient implementation. We are truly thankful for the support from FlyWheel Consultancy and look forward to a long-lasting relationship."